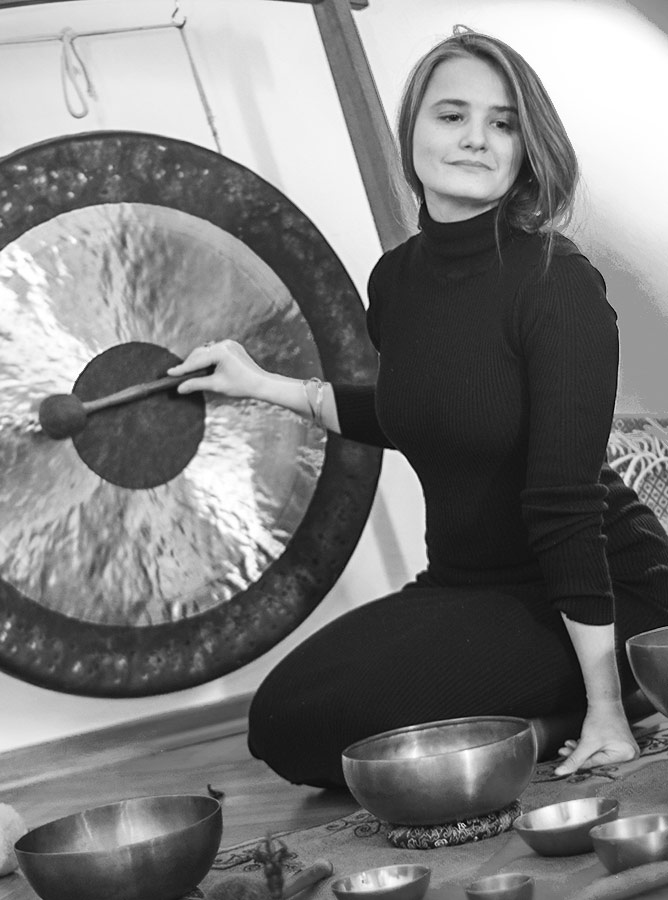 MANA Studio
Sound therapy Anna Olga Ehrhardt
A place where we create a safe space that facilitates peace, allows us to listen to our body and feel what we really need. I cordially invite you to relax in the sounds of bowls and gongs and to psychological support sessions in my cozy office in Krakow and Warsaw.
Sessions in the sounds of instruments allow you to relax, focus on your own needs, and look at many things from a distance. Let yourself be carried away by soothing sounds that will envelop you with warm rays of the sun.
Sound massage is called intracellular massage. It stimulates the movement of all water molecules that are in us. It sets every cell in our body in motion. It relaxes, strengthens and regenerates!
Unlike most types of psychotherapy, counseling is usually a short relationship between the psychologist and the client, aimed at solving a specific problem that the patient reports. It usually takes the form of several meetings, the main purpose of which is to identify difficulties and find ways to deal with them ...
Relaxation with the sound of bowls and gongs
For centuries people have searched for ways to achieve rest and peace. Many practices have been developed to relax the body and mind, thus protecting the body against overload. One of such methods is sound massage with the use of Tibetan bowls. An important feature of the "Tibetan bowl" is that during the massage, the whole body is set in motion by vibration, which causes the energy in the body to circulate more intensively. The basis of sound massage is the ancient knowledge about the essence of sound, which was used more than five thousand years ago in the Indian art of healing. Sound massage is based on the common experiments and experiences of both researchers in the field of the impact of music on the human body and psyche. Currently, Peter Hess runs the Institute of Massage and Sound Therapy in Germany, in which the massage method is constantly developed.
Find out more